AVIATOR Gauge Panel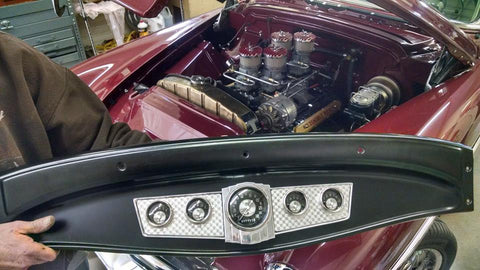 The NEW Davis Haus of Style AVIATOR gauge panel is just what you've been looking for for your Hot Rod project! Featuring an Art-Deco look that is sure to draw attention, this ALL NEW cast aluminum gauge panel is just the ticket for your ride!  Perfect for a '32 Ford or Model A with a '32 style dash, vintage boats, anything with a flat dash! This panel accepts both Stewart Warner 2 1/16" and 3 3/8" as well as Classic Instruments 2 1/8" and 3 3/8" gauges. Measures 18.5" x5.25". Also available in the "Super Deluxe" trim level, which comes polished with engine turned inserts! See our Products page for the Super Deluxe AVIATOR!
100% MADE IN THE USA!
Cast finish panels ship on one to two days. Please allow two weeks delivery for Super Deluxe AVIATOR shipments, as it is a custom part! Thank you!